1880 Annual Ball Invitation from Allentown Fire House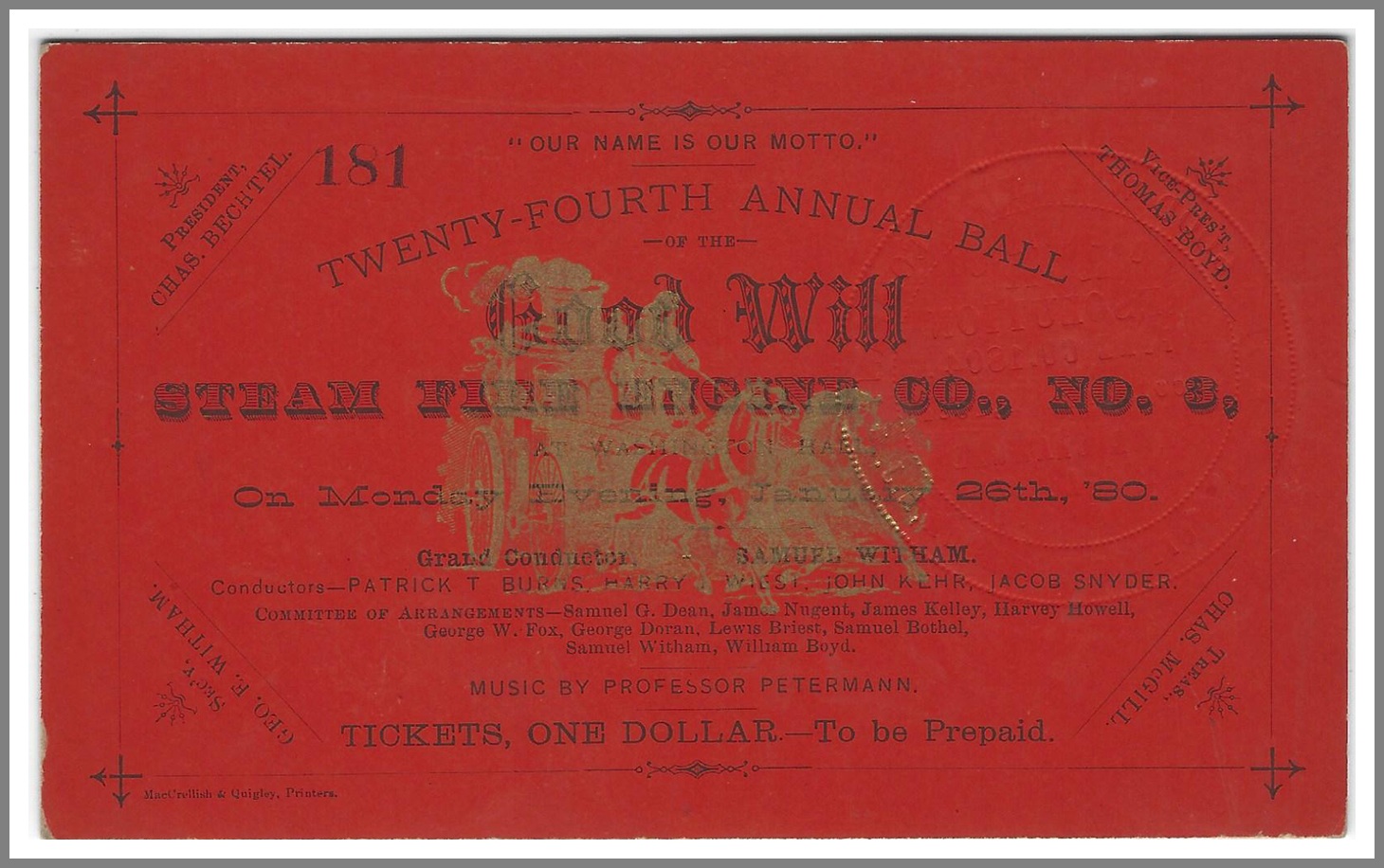 1880 Annual Ball Invitation from Allentown Fire House
This invitation was issued in 1880 for the Twenty-Fourth Annual Ball of the Good Will Steam Fire Engine Co., No. 3. The ball was to be held on Monday evening, January 26th, 1880 at Washington Hall.
The Good Will Steam Fire Engine Co. No. 3 was founded in 1851 in the Allentown, Pa. area. The centennial was celebrated in 1951 in Allentown, according to the "Morning Call," Feb. 10, 1951.
The motto of the company was "Our Name Is Our Motto," printed at the top of the invitation.
Music by Professor Petermann (a cornet player who had an orchestra at the time).
The card also contains the names of Chas. Bechtel, Thomas Boyd,. Chas. McGill and Geo. E. Witham (all officers of the Company); Conductors Samuel Witham, Patrick T. Burns, Harry West, John Kehr, Jacob Snyder; and the committee of arrangements, Samuel G. Dean, James Nugent,. James Kelley, Harvey Howell, George W. Fox, George Doran, Lewis Briest, Samuel Bothel, Sauel Witham, William Boyd.
Tickets were one dollar (to be prepaid).
MacCrellish & Quigley, Printers. (a longtime Trenton, N.J. printing firm)
Condition: Excellent, with no flaws. The card stock is orange on both sides, the back being blank. Corners are sharp. Size 5.25 x 3.25 inches.