Cornwell's Improved Self Fitting Chart for Dresscutting - 1888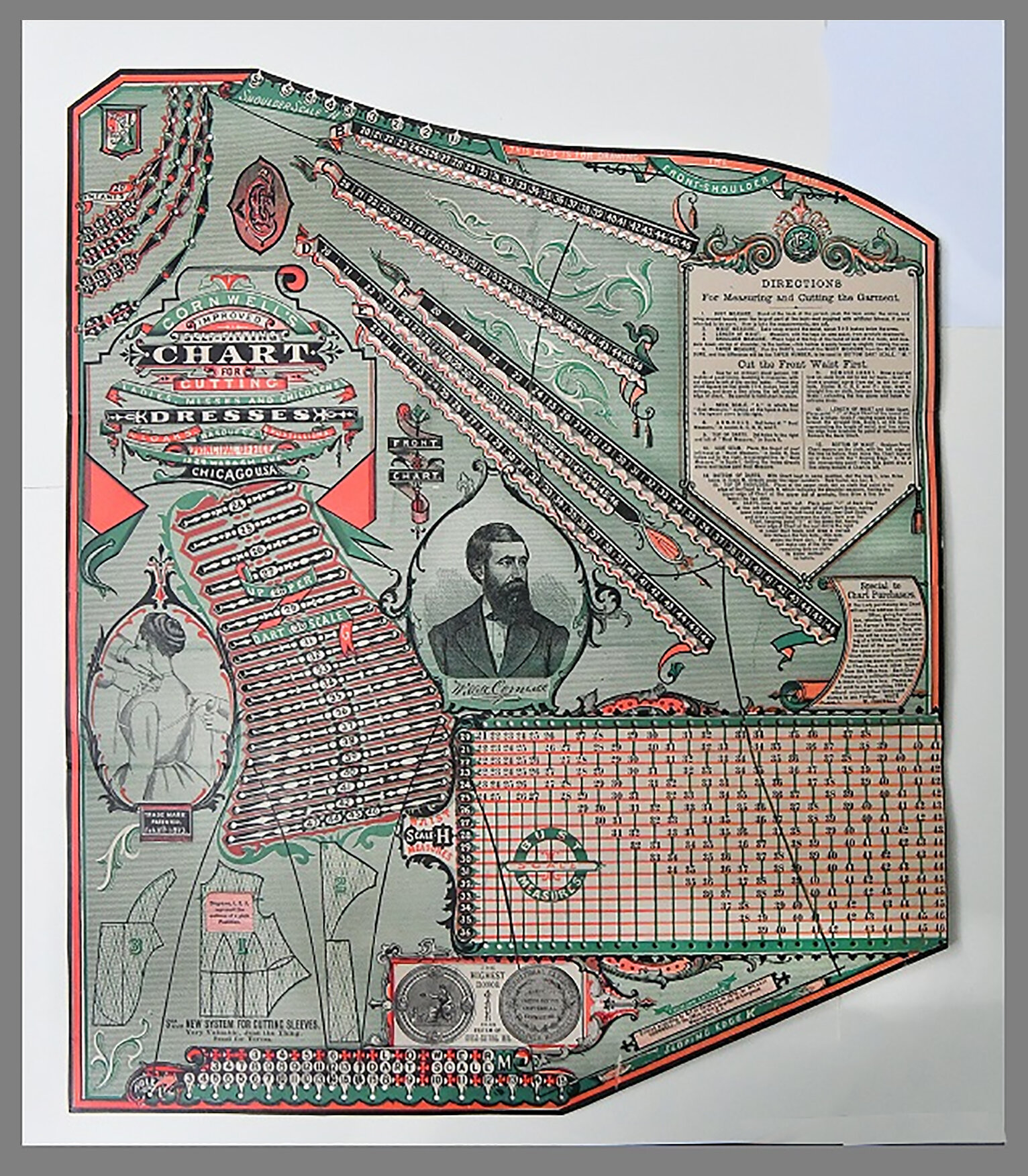 Cornwell's Improved Self Fitting Chart for Dresscutting - 1888
Consisting of two beautifully colored and designed heavy cards "For cutting ladies, misses and children's cloaks, basques and postillions".

"A basque is an item of women's clothing. The term, of French origin, originally referred to types of bodice or jacket with long tails, and in later usage a long corset, characterized by a close, contoured fit and extending past the waistline over the hips." (from Wikipedia)

"In Victorian fashion, the word was applied to bodices that included decorations that rested on a woman's buttocks or trailed below. It could be simple and short, like the lower-back of a man's jacket, or extravagant and billowing, like a series of cascading bows and lace… Outfits were crafted so that the postillion decoration on a jacket or bodice would be repeated on the skirt, all blending together nicely." (from Kate Tattersall.com)

This is the largest of the two cards, measuring 16" x 19". There are two horizontal folds that show no wear. Other than a half inch by eighth inch scuff at the bottom edge, the piece is in excellent condition. There are no other flaws.
This card measures 11" x 18". It is in excellent condition and has no flaws. There are just the two horizontal soft folds as it came from the manufacturer.

The original chart won the Highest Honor for dress-cutting at the International Exhibition in Philadelphia in 1876. The creators were Elmira and Willett Cornwell. The "system" published in 1888 is an update. The envelope for the pattern (which bears the name of Willett Cornwell), comments that "Lady Canvassers" are wanted to sell the chart. "Some make $50 per week. There is no article so suitable for a lady to sell, and nothing that yields so much profit to the agent." "Lady school teachers can make four or five times as much in this business as in teaching, be more independent, and have much healthier employment."
The printing was done as a woodblock engraving in red, green and black.

From the Rutland Daily Herald (VT), Aug. 24, 1872:
"Artistic, Elegant. A new revelation in the science of Dress-making, Mrs. Cornwell's self-fitting waist and shoulder measure, by the use of which a perfectly fitting dress may be assured for any contour or shape. It is absolutely infallible as applied to the purpose for which it is intended. After once using no family or dressmaker will do without it. Instruction given in the dress system. Also, Corsets, ready made and made to order by measurement, warranted to fit any and every form. Ladies of Rutland and vicinity can be waited on for a short time by calling at 62 Center Street, Rutland."
Included is the original envelope that the pattern pieces were mailed in. Its dimensions are 16" x 7". There are two tears in the envelope. Both are large but there is no paper loss. Printed on the front is an ad containing 20 lines of copy about the dressmaking system.