c 1860 Railroad Ticket Maine to Boston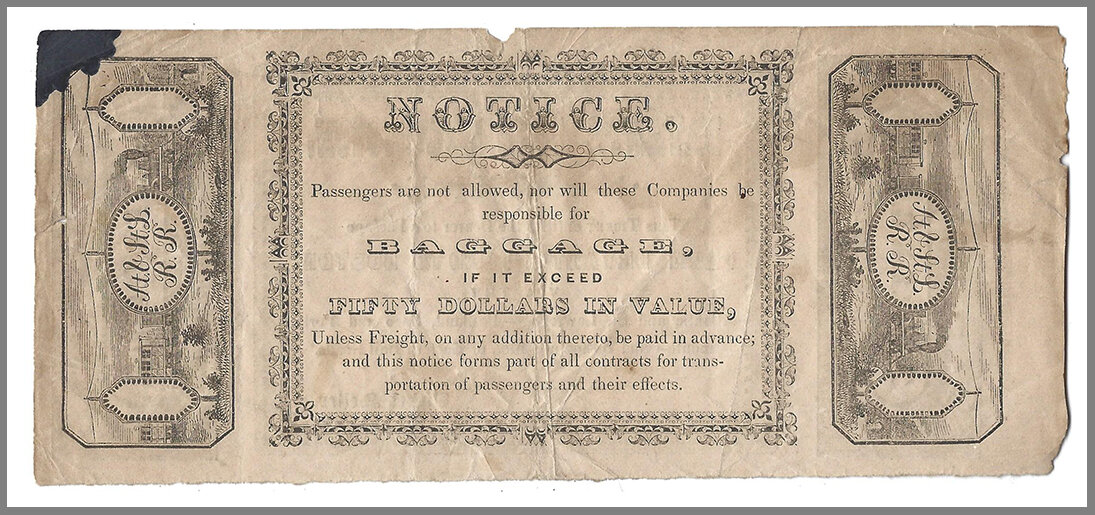 c 1860 Railroad Ticket Maine to Boston
This is a railroad ticket for the Atlantic & St. Lawrence Railroad. It was printed with different copy and wood engravings on each side.

"This ticket entitles the bearer to a passage from Bryant's Pond [Maine] to Boston via the Atlantic and St. Lawrence – Portland, Saco and Portsmouth – and Boston and Me. or Eastern Rail Roads."

The reverse side states: "Notice. Passengers are not allowed, nor will these Companies be responsible for Baggage if it exceed fifty dollars in value, unless Freight, or any addition thereto, be paid in advance, and this notice forms part of all contracts for transportation of passengers and their effects."
From Maine Register, 1855: "The Boston and Maine Railroad connects at South Berwick. The Eastern Railroad connects at Portsmouth. The Kennebec and Portland Railroad connects at Cape Elizabeth Junction. The Atlantic and St. Lawrence, or Grand Trunk Railway, connects at Portland. Freight trains between Portland and Boston daily.

"Passengers can procure tickets in Boston at the Depot of the Eastern, or Boston and Maine Railroad, for Brunswick, Bath, Gardiner, Hallowell and Augusta, by the Kennebec and Portland Railroad, and to Lewiston, Leeds, Winthrop, Belgrade and Waterville, by the Androscoggin and Kennebec Railroad; also to Mechanic Falls, Paris, Bryant's Pond, Northumberland and Island Pond, by the Atlantic and St. Lawrence Railroad. Stages connect with the above towns for all parts of Maine, New Hampshire, Vermont and Canada."

Condition is very good. There is an ink stain in an upper corner and slight paper loss at the top edge and a 1/4" tear along one of the edges. Otherwise it is very solid. Size: 7.5 x 3.25 inches.