1879 Issue "Western Agriculturist"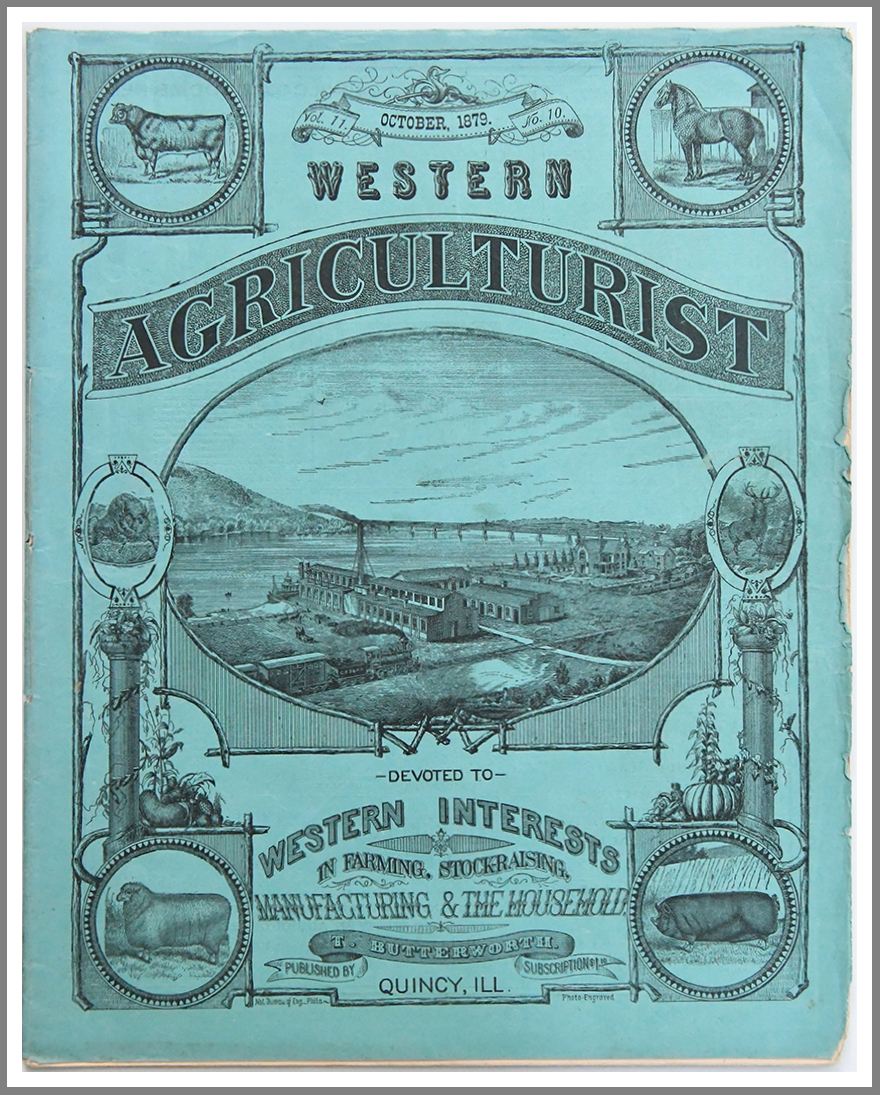 1879 Issue "Western Agriculturist"
The Western Agriculturist. October 1879 Issue Vol. 11, No. 10. "Devoted to Western Interests in Farming, Stockraising, Manufacturing & The Household. Published by T. Butterworth."
"Subscription $1.10. Nat. Bureau of Eng. Phila. Photo engraved."

Inside: "Devoted to financial interests of Western farmers" Also, "This is the Oldest, Cheapest and Best Monthly devoted to Western interests."This issue has 24 pages plus inside covers. It includes:
Etchings of livestock such as North Devon Cattle, Cotswold Sheep and Poland-China Pigs. There are short newsy articles in "Live Stock Department," "The Fall Fairs" "Western Manufactories," "Poultry Department, and "Apiary". Plus, written by Mrs. Theo Butterworth, comes "The Household."

The back cover is a full page advertisement for the Barlow Rotary Corn Planter (pictured here).

From "Newspapers and Periodicals of Illinois, 1814-1879": "Western Agriculturist 1868 to 1889+ Established at Quincy, Ill. Edited and published by T. Butterworth until 1889, when an incorporated company, Western Agriculturist Company, became publishers. Changed to Westen Agriculturist and Live Stock Journal, September 1889. Later it was dated from Quincy and Chicago, and it is still published from both places. Butterworth is still editor." In January 1901 the title changed to "Live Stock Journal," with the main office in Chicago.

Condition: almost excellent because of an archival repair to a 1/16 turned-over edge on front cover, right center edge. No paper loss. Interior is exceptionally clean with no damage. Size 9.50 X 12.00 inches.
#357